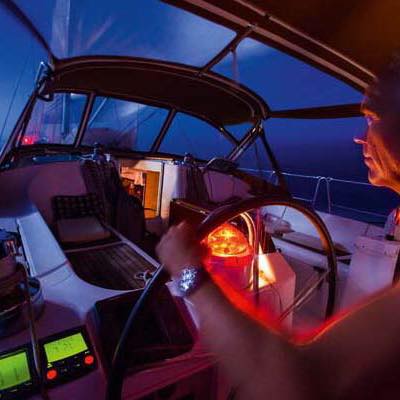 Sailing at night is arguably the best and most exciting time to go sailing—especially offshore and away from the lights of the city. There are fewer boats and typically the weather is better, yet many people feel anxious about attempting long distance, offshore sailing let alone at night. However, once you experience a boat sliding through the water under sail and looking up at the sky peppered with so many stars that it illuminates the deck of the boat and the ripples on the water, you'll wonder why you haven't done it sooner.
Aegir Expeditions offers non-stop overnight passage making adventures on Lake Michigan leaving from, and returning to, Chicago's Monroe Harbor. This experience is designed to build your sailing skills and confidence with lake crossings and night sailing, as well as all other aspects of boat handling and planning, navigation, steering, provisioning and meal planning, and watch schedules. Everyone will have the opportunity to work in each position of operating a 48ft offshore passage making sailboat.

Schedule
Friday, June 2nd - Saturday, June 3rd
Friday, June 16th - Saturday, June 17th
Friday, June 30th - Saturday, July 1st
Friday, September 8th - Saturday, September 9th
Friday, September 15th - Saturday, September 16th
* All night sails leave at 6:30pm and return the following morning.
Includes: Dinner, snacks
Prerequisites:
—Day Sailing, Coastal Cruising, or equivalent experience.
Spots Available: 6
Pricing: $380.00
Great nights for our Full Moon and New Moon Stargazing cruises are:
New Moon
• Friday, June 23rd
• Sunday, July 23rd
• Monday, August 21st
• Wednesday, September 20th
Full Moon
• Friday, June 9th
• Saturday, July 8th
• Wednesday, September 6th
Required Sailing Gear:
While we follow strict safety rules, each crew member is required to bring their own proper sailing gear and equipment—including a harness—and be prepared for a variety of weather conditions.