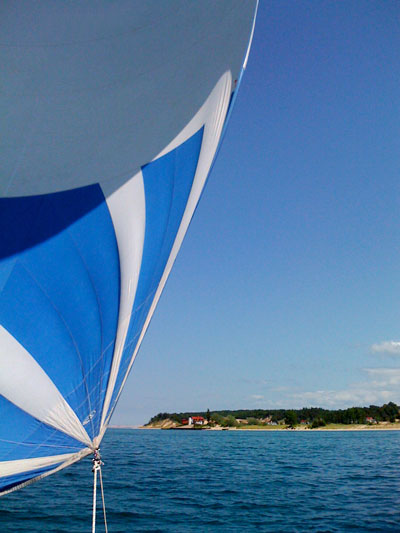 Our weekend classes are specifically designed for day sailors and coastal cruisers who are interested in gaining long distance offshore sailing experience, and gaining the skills and confidence to make the transition to passage making—sail long distances and non-stop multi-day passages in a variety of conditions. Aegir Expeditions offers these unique, multi-day passage making adventures on Lake Michigan leaving from, and returning to, Chicago's Monroe Harbor.
Under the guidance of an experienced captain/sailor/facilitator you will have the opportunity to work as skipper and crew in the handling and management of a 48ft passage making sailboat. In this class you will experience multiple day and night open-water long distance sailing, a wide variety of weather conditions and visibility, weather routing and trip planning, charting and navigation, maintaining logs, watch keeping, traffic and shipping, sail trim, energy management, safety on deck, anchoring, and provisioning.
As crew on our advanced weekend classes, you will join the boat on the evening of departure for a night sail and dinner on the lake. We begin with boat orientation, safety, systems, watch assignments, route planning and navigation. With a morning arrival at a distant harbor, you will have the time to enjoy a relaxing day ashore taking in a few sights, hiking or kayaking before getting an early night. Depending on the destination we may anchor out and/or spend the day swimming from the boat in Lake Michigan. Depending on the length of the trip we may visit other harbors but it's up before dawn for sail back to Chicago, cleaning, and putting the boat away.
2-Day Itinerary:
Board the boat 8am Saturday morning and return Monday afternoon around 5pm.
Cost: $475.00
3-Day Itinerary:
Board the boat Friday evening at 6:30pm. Depart early Saturday morning and return Monday afternoon around 5pm.
Cost: $720.00



Available Expedition Weekends:
• August 5–7
• August 12–14
• August 19-21 – Air & Water Show, Solar Eclipse
• August 26-28 – All Women Sail Training
• September 16–17
• September 23–24


Our 2- and 3-day, weekend classes loosly follow the ASA 108 Passage Making curriculum depending on each groups skill level. This is a great way to get a great amount of resumé building sailing time and hands on practice in every aspect of sailing and managing a 48ft yacht. Additionally, our weekends are sprinkled with shore time visiting various ports on Southern Lake Michigan to also give you a feeling for the 'cruising lifestyle'. You will be involved in our weather forecasting and route planning which will be used to determine our itinerary and destinations.
* Groups of advanced students will include a 12-15 hour night sail.
Includes: Slip Fees, Fuel, Breakfasts/Lunch, snacks, drinks
Prerequisites:
—Pre-departure Planning Meeting
—Day Sailing, Coastal Cruising, or equivalent experience.

September 16–17: Spots Available: 6
September 23–24: Spots Available: 6
Required Sailing Gear: While we follow strict safety rules, each crew member is required to bring their own proper sailing gear and equipment—including a PFD w/ harness, foul weather gear, sailing gloves—and be prepared for a variety of weather conditions.
Also . . .
Be sure to look at our One Day Sailing and Night Sailing classes.